Well, what a dry month it's been for this poor blog! All I can say is it's been a busy one at home with sick kids, school holidays and life in general. I've had so many things I'd like to write about, but come the end of the day I just want to blob on the couch and admire my newly-rearranged lounge. Small things...
One thing I don't want to forget about though is that I've been very fortunate be be featured in the UK
Cross-stitcher
magazine this month. They did an article about the talented Liz Smith from the
Stitchsmith
and asked her to name a few NZ stitchers whose work she likes, and I was one. Click on the images below to have a better look.
How nice of Liz! I also like what they say about my embroidery kits: 'neon shades agains a grey fabric: NZ chic'. I did not pay them to say that, honestly!
I am so thankful that my work is getting out there and being seen by more people, so I thought I'd do my own little showcase of some great textile artists that I've been following.
Jane Denton
Jane is a New Zealand jewellery and now textile designer, based in Wellington. I love her use of colour and the woven look of her latest work, plus the fact that she makes embroidery into art. (Photo from her
website
).
Another very talented designer from Wellington. I was so surprised to meet Flora at Handmade last month because I had fallen for her designs online and didn't even know she lived in NZ. She is also a super-amazing illustrator with a keen sense of colour. Just look at her
website
for evidence if you don't believe me :) This is one of her screen-printed tea towels from her
Etsy shop
.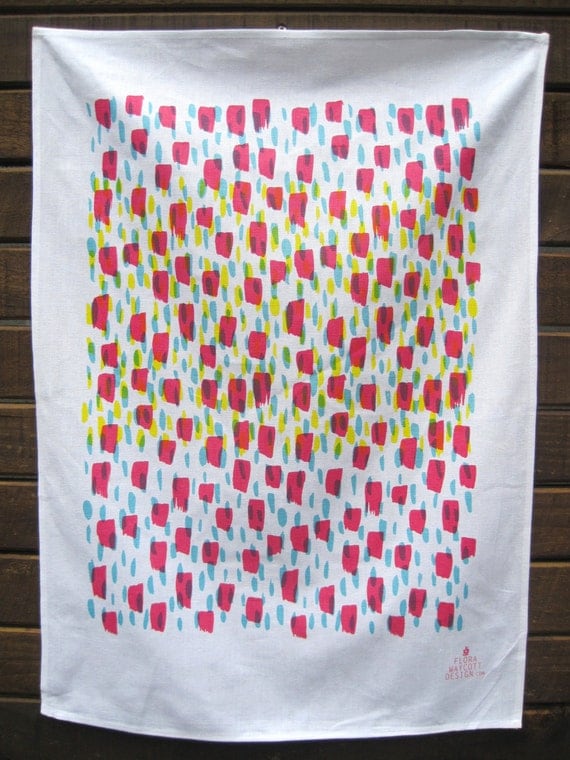 Karen is a textile designer, weaver, embroiderer and teacher who lives in Chile. Her blog is full of beautiful photos that she takes of all her projects and experiments. I am blown away by her work ethic and consequent body of work. This is her Copihue design (Chilean bellflower) on a tea towel (image from her
shop
).
It's getting late and I'm getting silly. I have a heap more people to write about some other time, so let's leave it here and I'll say goodnight. See you soon xx